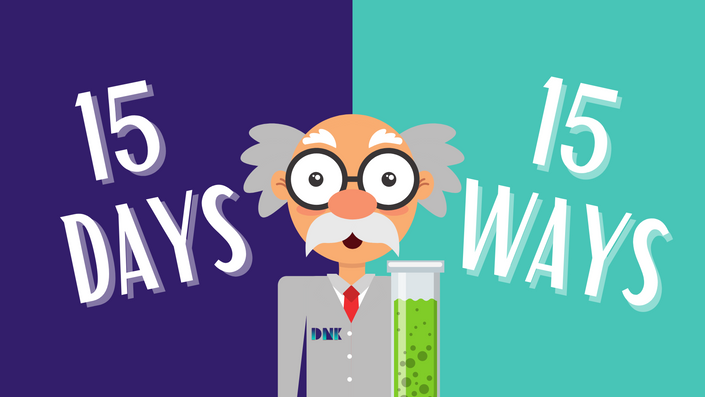 15 Days, 15 Ways
A Client Acquisition Experiment

I woke up recently with an idea, an idea that was born from reading way too many posts across numerous VA communities from really smart and talented VAs who were struggling to land clients. I thought long and hard about why, I looked at their profiles, I checked their websites, I stalked them a little. And it dawned on me that they were simply not doing enough.
Not doing enough when you're motivated to land clients seems counter-productive doesn't it? But I get it. When you have the whole internet at your fingertips you can become paralyzed with the daunting task of simply getting started. It's overwhelming knowing what to do!
The thing is though - you need to do things, on a regular basis, that will help you move toward your goals.
Your goals presumably being landing awesome clients and having financial security and all the perks that come long with that.
My idea was simple: what if I rounded up a group of people who would commit to taking daily tasks with me for a short period of time, but just enough time to see results. What if we could turn our fortunes around through the power of accountability and armed with concrete, useful things to do each day.
And so, 15 Days, 15 Ways: A Client Acquisition Experiment was born that morning.
Obviously, the ultimate goal for this is for you to land first or new clients, but I am certain that the wins will be varied, from brand awareness, confidence in your business and direction, collaborations, media wins, and more. I don't see that there could be any negative consequence of showing up and taking consistent meaningful action in your business!
This is to...
Get you to commit to what it takes to make this work
Find a path to clients that feels true and easy for you
Streamline your client acquisition efforts
Stay consistent and develop discipline through following a structure
Establish an 'in your business' routine with accountability
Land clients, duh!
So that's what this is. An experiment to see what we can achieve together in just 15 days.

DATES: APRIL 12 - 30
Wait, that's more than 15 days!!!
You betcha it is, you'll be taking daily actions on Mon-Fridays only, leaving weekends to rest, because #selfcare #boundaries #worklifebalance
The actions you'll take each day won't take very long, and you won't need to be around at any specific times. We're going for consistent small steps to achieve your goals.
Prior to the start date, I'm going to say 'a few days' before to give myself wiggle room here, you'll get a workbook from me detailing 15 methods you can implement right away to help you land clients. Each way will give you clear instructions on how to best put it into action.
FIFTEEN?!
Yep. But don't worry, I'm only asking you to choose and commit to 5. Because I also want you to get into the mindset that you don't need to do ALL THE THINGS and be in ALL THE PLACES and that you can and should take a more streamlined focus on your business.
HOW TO CHOOSE?
Oh yeah, I have you covered there too. I'll be providing you with an 'Identifiers' sheet, this is to help you understand which methods might suit your personality, goals and target audience best. Ultimately, it won't matter too much which you choose though, because...
WHAT ABOUT THE OTHER 10 WAYS?
I'm creating a success tracker sheet for you too. This will help you stay accountable to taking your daily actions, but also give you a good indicator of what's working and what's not. This means at the end of our 15 days together, you can toss what's not, and utilize any of the other 10 ways to try out for your business too. Cool right?
WHAT IF I ALREADY KNOW SOME OF THE WAYS?
You probably will. Awesome. Now is the time to implement them in a structured way, if you had been, you probably aren't checking this experiment out :) Hopefully, by the end you'll be kicking yourself for not implementing consistently before!
Getting clients is mastering marketing, and marketing often needs revising and refining. This experiment is an education is just that.

15 ways workbook with details on how to effectively use each method
'which ways for me', identifiers sheet
a group atmosphere (Slack channel to drop in and share wins and what we're doing)
a success tracker to track whats working and what's not so you can act accordingly
motivation from me and the other experimenters along the way 😎
After the experiment is completed, we will ask for copies of your success trackers - this is not mandatory, but if you are willing to share we can more accurately determine the success of this experiment and use that data to do better in future rounds. Your information will be shared with no one but Team DNK and can be submitted anonymously too.
JOIN THE 15 DAYS,15 WAYS EXPERIMENT NOW!
This course is closed for enrollment.